Driveway Gate
Back To Our Services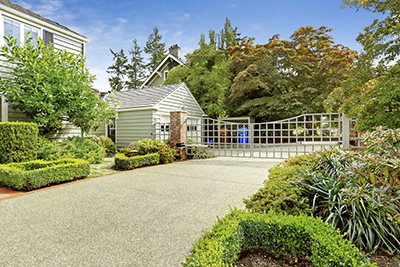 Whenever you are trying to find a reliable company for your gates and fences needs, you want a company that is highly dependable and result oriented. Our driveway gate company in Oceanside is the one you are looking for! Our company specializes in doing everything from repair gates to supplying and installing all types of gate openers / motors. These services also include the removal and replacement of these parts as well. Our Driveway Gate Company in Oceanside also provides welding services. We take pride in saying that we are open 24 hours a day seven days a week to help you so next time you have a emergency call our driveway gatecompany to rush to you as soon as possible!
Home Gate Welding Services & Same Day Repairs
Our company is a specialized gate repair contractor with extensive knowledge of residential systems and their openers. Following the progress of gate access control systems is also one of our obligations and we assure our clients that all of their gate needs will be covered with efficiency. Our technicians have the expertise and knowhow to fix gate parts and any problem related to the movement of the gate or its operating system. We are familiar with all operators, are experts in swing and rolling gates, and offer both installation and repair services. Rotten components are replaced as fast as possible and our company also guarantees same day emergency repairs.
One of our driveway gate company services are the Driveway gate opener's provision and installation. These driveway gate openers make it easy to open and shut your driveway gate. We can provide you with these driveway gate openers. Our installation contractors do the install of these driveway gate openers for you. Our driveway gate company provides only the highest quality driveway gate openers. We make sure that our customers deserve and get the highest standard of quality. Give us a call at ourdriveway gate company in the community of Oceanside to show you the different types of driveway gate openers that we offer.
The most common driveway gate openers that we sell are Elite, Doorking, GTO Pro, Eagle, Ramset, FAAC and All O Matic etc. The 3 different types of gates are single swing, Bi- Parting Pair and the sliding gate. When buying a driveway gate opener it is important to know the type of gate that you have. All of these brands can work with different kinds of gate. For more information call our driveway gate openers company in Oceanside.
When our installation contractors complete the installation of driveway gate opener, you have the choice of buying a driveway gate remote. The remote will allow you to easily operate the door without having to get outside the car to open and close the gate. Our contractors not only provide the installation of these openers but we also provide the troubleshooting guides. Our driveway gate company in Oceanside also will repair a driveway gate opener that you already have installed. All you have to do is call ourtroubleshooting and repair center and tell us that you are having trouble with your driveway gate opener and we will come out and get it up and running again.
Our drive way gate company is available whenever you need us. We will take great care of your driveway gate openers and your gates as well. The best part is that you can choose the gate that you want installed. We can also do the installation as well for theintercom or phone systems for your gates too. Our driveway gate company is the most preferred company in Oceanside. The people of Oceanside rely on us for their driveway gate services. Our driveway gate openers company in Oceanside will give you free estimates on any job. So give us a call and let us help you with all of your driveway gate/fences services.