How to Maintain Wrought Iron Gates
03/19/2014
Back To Blog
The value of gate repair is common knowledge since the usual gate materials and components are in constant conflict with natural elements. The importance of checking and repairing the safety sensors, the tracks, the driveway gate opener and, basically, all parts thoroughly is high because they will ensure that the panel will close properly and the system will be fully functional and, thus, protective over your family and property. Though, taking care of the material is of equal significance because a damaged panel won't do any good to your security or safety. Wrought iron gates are not hard to maintain but they will need your devotion for a few hours every few years for a complete tuning up, which will actually keep them strong and highly resistant.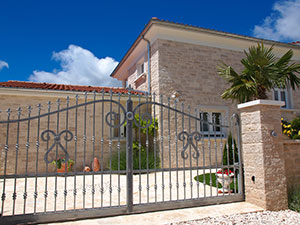 Check, clean and paint your iron gates
Don't let extreme temperatures take a toll on your steel gate and prevent their erosion and expanded damages with frequent maintenance. Your first obligation is to check them often in order to see whether the material has been scratched, the painting has peeled off or there are certain problems. Take advantage of a sunny day in order to clean it well and scrub off rust or residues off the old coating. You can use a steel wool pad and pour a few drops of kerosene or similar products to remove rust completely. You must make sure the material is smooth and perfectly clean and dry before you apply a prime. Primes are necessary and, in fact, you must choose high quality undercoats, which are appropriate for iron materials and can make them more resistant to moisture. This is actually the most important part of the whole procedure because it will also minimize the need of maintenance service any time soon. Once it is well dried, you can apply the final overlay and it's best to use special powder coat finishes, which are highly protective, too.